Biography
POSITION
Founder of A-Lab, Norway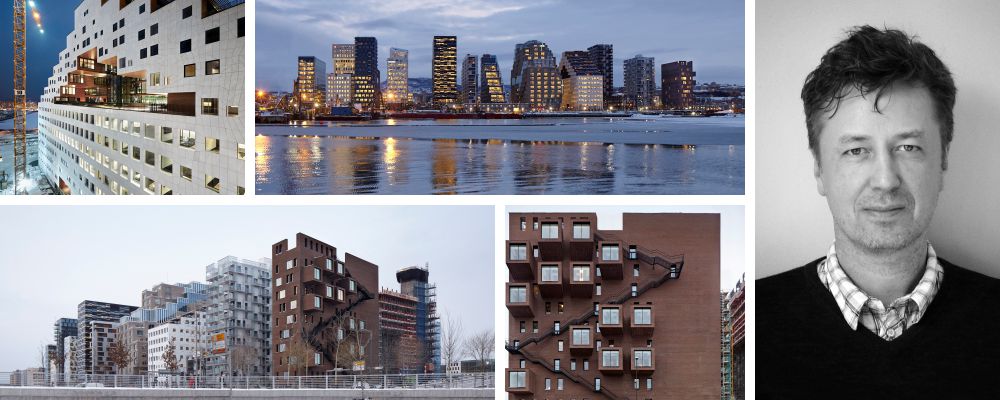 PRESENTATION
DRONNING EUFEMIAS GATE 42 (DEG 42):
An office building with untraditional content and design
BARCODE'S NEW EASTERN FACE
This eleven-story building is the last of BARCODE's 13 buildings and the farthest to the east.
Built on a narrow wedge-shaped lot, the building's offices are only 5–10 metres wide. Each floor has meeting rooms cantilevered out over the eastern façade, a space-saving feature that adds a lively architectonic quality. An exterior stairway / fire escape zigzags between these meeting-room boxes, further enhancing the building's iconic sculptural expression – facing the Mediaeval Park and the City of Oslo to the east, this is a fitting conclusion to BARCODE's long row of façades.
Finalist WAF 2016, Office
Nominated for Oslo City Architecture Award 2017
Nominated for the Fritz Höger Award 2017
BIOGRAPHY
Geir Haaversen is CEO and founding partner of A-lab in Oslo, Norway. He is an architect with great capacity of feasibility in large complex building and urban development projects. He is experienced in both competition schemes and project realizations. Haaversen was responsible for the coordination and completion of CBD "Barcode" in Oslo (300.000 m2) including DNB HQ with The Carve (World Architecture Festival 2014 – category winner Housing) and the Wedge.
With award winning office buildings, housing, culture buildings and city plans, A-lab has established itself among Norway's leading offices of architecture. A-lab's goal is to influence the urban environment through innovative and sustainable architecture with a strong identity.
One of the secrets behind A-lab's success is Haaversen's skills as a leader. To obtain ownership to the projects the architects who work in A-lab are given a lot of freedom and responsibility in the firm, and Geir always tries to get the best out of everyone through encouraging initiative, research and innovation. A-lab's projects thus have a lot of different expressions, but always focus on sustainability and the development of places and identity. This has led to multiple architectural awards and a steady growth of the company.
Haaversen is now leading the architectural team in the competition for the new Government HQ in Oslo, Norway, a team consisting of three of Norway's leading architectural offices. They are now at the last stage of the competition with only two teams left.
A-lab are finalists for the upcoming World Architecture Festival 2017 with "Sæter terrasse", a housing project in Oslo. The office has also been awarded the WAF award three times – two times for the Statoil Regional and International offices, both prior to building and after completion, and once for "The Carve" in Barcode, Oslo. One of Haaversen's specialties lies in leading big multidisciplinary teams, as he did in Barcode. Haaversen also has indepth knowledge and specialist experience in revitalization and profiling processes.
His enthusiasm for architecture and urbanism is reflected in his engagement as a board member in The National Association of Norwegian Architects (NAL), board leader in Oslo Architecture Triennale and academic sensor in Norwegian architect schools.
AWARDS
World Architecture Festival – finalist 2017 – Housing – Sæter Terrasse.
Golden A' Design Award "Architecture, Building and Structure Design" for DEG42 The Wedge, 2016
World Architecture Festival 2014 – category winner Housing for «The Carve» Barcode
World Architecture Festival 2013 – category winner Office, for Statoil Regional and International offices (Norway)
Cityprisen 2013, for Barcode
Nominated for MIPIM Awards 2014 for «The Carve»
Nominated for MIPIM Awards 2013 for Statoil Regional and International offices
Byggherreprisen 2012 for Statoil Regional and International offices
WAN Award 2012, winner Commercial sector for Statoil Regional and international offices
World Architecture Festival 2009 – category winner Future Projects, commercial for Statoil Regional and International offices