Biography
POSITION
Founder Simona Pribeagu Schmid Architect, Switzerland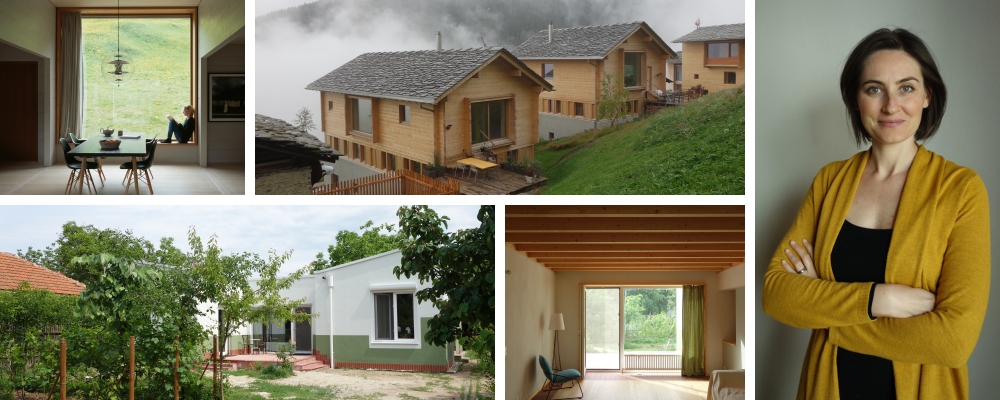 PRESENTATION
Continuity
House of Memories, Alexandria
There was a small existing house on the plot, almost disappearing in the middle of a fruit and vegetable garden. A paradise.
The garden was left as it was, only the house was replaced by a new one: One single floor, all rooms connected to the outside – a garden house. Or just a typical Romanian rural house, attached to its ground.
The new design is inspired by the traditional linear "casa vagon": two narrow volumes house kitchen, sleeping rooms, office and lavatories. Between them lies a central living space that opens with big windows to both the front and the back garden. It is a kind of space that is not known in the traditional house: A garden room, a space for contemplation and leisure. Connecting inside and outside, but also traditional and modern life.
The design process of the building evolved around the central question:
How can you build a solid and beautiful house that inserts itself harmonically into a typical Romanian context, being limited to the catalogue of mainstream products and materials from the Do It Yourself – Store?
"House of Memories" was awarded 1st Prize at the Bucharest Architecture Annual Exhibition, Residential Architecture – Individual Dwelling section, 2016 edition
AWARDS
2016 Winner at Bucharest Architecture Annual Exhibition, Residential Architecture – Individual Dwelling section
2010 Finalist at the Competition for Collective Housing on Kronenwiese Areal, Zürich, Switzerland
BIOGRAPHY
Born in 1980 in Alexandria, Romania, Simona Pribeagu Schmid studied architecture in Bucharest, Paris and Mendrisio, Switzerland. 2005 she graduated in Accademia di Architettura di Mendrisio with professor Luigi Snozzi, with a project for a Car Parking structure in the periphery of Padua.
After graduating she worked as an assistant in AAM for the design chairs of Espanol & Sassi and Geninasca Delefortrie. In parallel she collaborated at the Institute for Contemporary Urban Project (i.CUP), where she dedicated herself to urban planning and large scale interventions, an interest developed already during her studies.
In the following years she worked as a project leading architect in different offices in Romania and Switzerland, including Bétrix Consolascio architects in Zürich. In 2010 she opened her own office in Zürich and Bucharest. Since then she has designed and built individual dwellings in both Switzerland and Romania, amongst which the awarded "House of Memories". In parallel she has also taken part in different competitions in Switzerland.
EDUCATION
Graduation of Accademia di Architettura di Mendrisio-2005
PROFESSIONAL EXPERIENCE
AAM,assistant for the design chairs of Espanol&Sassi and Geninasca Delefortrie
Collaborator at the Institute for Contemporary Urban Project (i.CUP),urban planning and large scale interventions
Project leading in offices in Romania and Switzerland, Bétrix Consolascio architects in Zürich
Founder Simona Pribeagu Schmid Architect-PRESENT