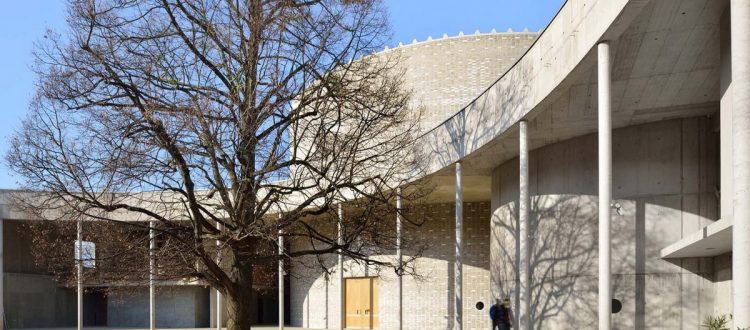 ARCHITECTURE TODAY. A DIALOGUE WITH MIHA DEŠMAN FOR SHARE FORUM 2017
Mihael Dešman is the chief architect of the Slovenian studio dans architect and he will be present at SHARE Forum 2017 on 6-7 November at JW Marriott Grand Hotel. His lecture, The Architecture of Dialogue, will focus on two important projects of the office – Don Bosco Church in Maribor and The bicycle bridge across the Sava River, an intervention which received the 2016 Architizer A+ Award and the 2013 1st National Award for the Best Wood Construction. Apart from attending RIFF 2017 and CONTRACTOR LIGHTING 2017, the two main conference events of the Forum, he will also be part of the Romanian Building Awards 2017 jury, together with arch. Kenneth Yeang (MYS), arch. Renato Rizzi (IT), arch. Bruno Andresoiu (RO) and arch. Andrei Serbescu (RO).
Until we all meet to welcome Mihael Desman, he kindly accepted to join us for an interview; he raised our expectation for a very interesting journey to take place under his guidance at SHARE this autumn. You can register for the conferences here.
__________
Ruxandra Grigoraș: We can talk a lot about architecture without naming it directly or without stating its extent and therefore without asking the question because perhaps it is a dated one… but how would you define architecture today? What is your Definition of it?
Mihael Dešman: I believe in architecture so I like to use word architecture as many times as possible. in different contexts Architecture is art, science, and philosophy of building. That is the manipulation of senses, the quantification of functions, and the creation of concepts associated with design of buildings and urban spaces. I don't see architecture as essentially determined by time. Of course, it expresses its social condition and the spirit of time, but it should also be permanent, i.e. timeless.
RG: We live in a time when the search for Truth seems to have new dimensions. You spoke in a previous interview about doing the right thing as an architect, so about correctness. Do you think there is a link between architecture and truth?
MD: Architecture is a serious profession and thus it must bear responsibility. It has to do with planning and designing form, space and ambience that reflect functional, technical, social, environmental and aesthetic considerations. In my opinion, the value of architecture is a matter of its honor, authority and honesty – absolute commitment to the truth. The truth is one of the "conditio sine qua non" for credible architecture.
RG: Does architecture have an Ideal or an Absolute self nowadays?
MD: Architects manipulate and coordinate materials and technology as well as the light and the shadow in a creative way, in order to provide intellectual structure of the built environment. Often, conflicting requirements must be resolved. When asked if architecture can operate outside the frames of selfishness, neoliberalism, and individualism which define the modern capitalist society, I agree with Manfredo Tafuri in saying, that the architecture itself can't solve this problem; this is the task of the politics. But still, the ideal of architecture lies in its humanism which means changing the world for the better. As a creative process, architecture does not simply rearrange the realities – the social, the cultural, the economic and the political context in which it takes place. It can reconstruct, transform and re-define this context. Architecture can transform a space into something completely new: into a suitable place for active creative human beings.
RG: Having in mind the actual global context, what should the architect of today stand for, ideally? What do you think about architecture and politics?
MD: The architecture bears the task of representing democratic nature of the contemporary society. Architecture communicates, so there is, in addition to its content, its symbolic function. It represents the common values, depicts national and political consciousness, and shapes the identity of its citizens and the image of citizens about their own country. So yes, architecture is political. The architect today should again act as an activist standing at the crossroad between the unfair society of capitalism to a better future for all people and their environment, or will architecture together with capitalism end up in the dump of history.
RG: You also spoke about legacy in Slovenian architecture, about a dialogue between generations that is a sort of common ground. What is new and what is old in Slovenian architecture or on a global level?
MD: Contemporary Slovenian architecture is a heterogeneous structure, yet still one with certain laws, leading branches, and leanings. Tradition is present on different levels. The most interesting architecture creates balance between the affirming Slovenian national identity, while at the same time opening to global influences. Essentially, they have simultaneously global and local orientation.
RG: Every project requires a different set of rules and instruments. However, do you have a fil rouge that operates in all your projects, a statement that becomes visible in the end of every process you design?
MD: We (dans architects) are consciously exploring the relationship between people and built environment. We think about innovative ways of using the space and at the same time drawing from archaic building principles, exploiting the opportunities opened by sustainable construction, and the possibility of creating pleasant livable spaces. No matter if we are designing urban public spaces or facilities with focus on engineering and technology, large spaces with heavy flow of people or intimate ambiances, we try to create different moods through use of nuances and careful details. Alongside, the question of responsibility of architecture is important for us, not merely as an aesthetic and economic responsibility, but also as social and ethical responsibility.
RG: What is your opinion on ornament in architecture?
MD: Ornament is not only a decorative element or an esthetic addition to architecture, but it has a specific function, often connected with our everyday life. That's why it still matters in the present. As there is no prescribed language of architecture today, it is the responsibility of the architect to choose it. Thus, the architectural language, ornament comprised, should not be banal in any way. It has to take an adequate, primarily contextual role.
RG: I noticed in some of the projects of your office that architecture has a central core where a special relationship between man and space takes place. How would you comment on the idea of centrality in contemporary architecture?
MD: For all of us, architecture is the third skin (the clothes being the second one). It represents a layer that helps us cope with various physical stimuli from the environment. So, architecture is the background and the condition of our lives. It creates an environment in which we live. We like the bedroom to let us sleep well, we like the library to let us focus to reading, and we like the coffee shop to allow us to talk to friends. Being surrounded by good architecture makes our lives better. The main task of our work is to create the best architecture possible.
RG: We can extrapolate a lot about the Man when looking at his architectures. How would you describe the contemporary Man, when looking at the architecture of today, in general?
MD: Contemporary Man is at the crossroads. Either we will change ourselves and our society or we are on the path of self destruction. When we ask ourselves, what is relevant today (in general and in specific field of architecture), we simply cannot ignore the concept of sustainability and the implementation of digital technologies. A call for ecological ethics and lifestyle as well as sustainable construction and urban planning is the most important initiative for change that has emerged since the beginning of the modern movement. The other new condition is the digitization of design and construction. In my opinion, we must not understand (and build) the change in the paradigm from modernism to sustainable architecture and from analogue to digital design as a break, but rather a continuation of a modern project. So, the contemporary Man should be a modern man or woman.
RG: This is not the first time you will visit Romania. What do you see when you are here?
MD: From a distance It is easier to see the contours of a specific place (or state) more clearly than if you are constantly in it. I see a big European state made of sometimes lovely and sometimes brutal environments and cities. I see a country of fantastic people with rich cultural background, with complex and in part tragic history. I also sense a lot of unexploited potential, also in architecture.
RG: You are a member of the Romanian Building Awards 2017 competition and we are very proud to have you here. Is there something you look for, something you expect before seeing the authors' presentations during SHARE 2017?
MD: I hope the proposals will be fresh and unconventional, open to experiment, and such playing with unexpected concepts, new technologies and shapes. So, the main criteria in my judging will be originality and courage, together with responsibility, precision and knowledge.
An interview recorded by Ruxandra Grigoras, Associate Editor at share-architects.com
Photo source: Miran Kambič
__________
Mihael Dešman is born in 1956 in Gornji Grad, Slovenia. He graduates from Ljubljana Faculty of Architecture in 1981 and continues postgraduate studies at the IUAV in Venice, Italy. With Katarina Pirkmajer Dešman he founded Atelje Dešman (1983 – 2003). Miha Desman and partners founded architectural studio DANS arhitekti in 2004. Since 2010 he is professor of history and architectural design at the University of Ljubljana, Faculty of Architecture.
Mihael Dešman is author of over 250 articles and essays, published in books, magazines and other professional and popular media. He is a member of Association of Architects Ljubljana and founder and member of DESSA Gallery since 1982. Since 1986 he is member of the editorial of AB, International Magazine for Theory of Architecture and its executive editor from 1995. He was also member of the editorial board and editor of the reference books in KRT publishing house, that received the Plečnik award (1988) on the field of theory of architecture. He was president of the Association of Architects Ljubljana between 2003 and 2006 and is president of the executive board of the Plečnik Found from 2006.