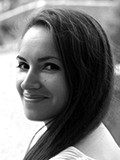 Guest Speaker at RIFF conference, Kronospan
Kronospan Ambassador, Ph.D. Student at TRANSILVANIA University of Brasov Faculty of Wood Engineering

PRESENTATION: "More from OSB"
EDUCATION:
2006 – 2012 -University of Architecture and Urbanism Ion Mincu Bucharest, Faculty of Architecture, Diploma and Master's Degree
2012 – 2015 – Transilvania University of Brasov, Faculty of Wood Engineering, 3rd year PhD Student
ACCOMPLISHMENTS:
– Architect, currently Ambassador of Kronospan representing Romania
– Currently 3rd year PhD Student Arch. at Transilvania University of Brasov – Faculty of Wood Engineering and member of the Local Organizing Committee of ICOHTEC 2014 and responsible for organising the symposium exhibitions and poster/local symposium logo/website design.
– Since 2014, Member of the Romanian Academy – Committee of History and Philisophy of Science.
– Several publications (PRO-LIGNO, proceeding of the Faculty of Wood Engineering, Brasov) and participation at the International Conferencse (ICWSE and ICOHTEC) and CRIFST (the Annual Scientific Meeting of the Romanian Academy – Bucharest).
– Member of the coordinating teams of the architecture workshop Inside outside in between II at Dealu Frumos, Sibiu-Romania in collaboration with Univ. Doz. Doc. Thomas Gronegger (New Design University, Sankt Pölten, Austria) and the Faculty of Interior Design from Bucharest.
-Member of the coordinating team of the wooden handicraft workshop Past in current practice, in collaboration with Ph.D. Eng. Alin Olărescu – Transilvania University of Brasov and the Museum of History of Brasov.
– An active member of the organising team of the annual cultural festival Etnovember – Brasov since 2012.
– Has organized several art workshops (the annual art workshop since 2007 at the Aula of Transilvania University Brasov) and exhibitions in the field of architecture, art and photography.
– A series of architecture exhibitions in London (participation with the Diploma project – The Mitropoly grape wine Museum of Bucharest – at the group exhibition organized by the Royal Institute of British Architects in 2012), Bucharest (2008-2012, architectural projects concerning collective and social housing, cultural/experimental art center), Brasov (2007-2013, architectural projects concerning public space, collective housing, diploma project, vernacular housing, traditional wood structures); photography in architecture (2008–European architecture; 2009–Modern Architecture in the Netherlands; 2013–Romanian Industrial architecture), collaboration with architectural foundations (www.monumenteuitate.ro), collaboration with the Institute of Architects of Brasov County (www.orasulmemorabil.ro) and website design.
– Several architectural projects and proposals for wooden structures of the existing vernacular housing at "Dimitrie Gusti" Village Museum in Bucharest (2011).
– Head of the architecture team of PRISPA (2010-2011), team representing Romania at the International contest Solar Decathlon Europe, organised at Madrid.
– Junior member of the Romanian Artists Association (2013); several art exhibitions (1999- Victoria Art Gallery Brasov; 1999-2002 – Transilvania University Brasov Hall C; 2010-Art Museum of Brasov city; 2011-Aula of Transilvania University Brasov; 2013-Europe Art Gallery Brasov).
AWARDS:
2008 – Award for Photography in Architecture, Norbert Detaeye Association, Brasov
2011 – RoGBC (Romanian Green Building Council) Award, "Green educational initiative of the year", Solar Decathlon, Team Prispa
2014 – 1st Prize – Young ICOHTEC Researcher, ICOHTEC International Conference – Brașov