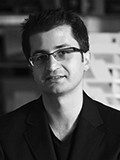 Guest Speaker at RIFF conference, Aytac Architects
Founder of
Aytaç Architects
, Turkey
Project: HEBIL 157 HOUSES
Project Award: International Architecture Award 2014 by The Chicago Athenaeum Museum of Architecture and Design
Awards: American Association of Landscape Architects Awards 2013; Yenikapı Transfer Point and Archaeopark Competition, 1st Prize, w/ Eisenman Architects; James GUI Weather Station Competition, Honorable Mention, Ohio
Alper Aytaç was born in Istanbul, Turkey in 1977. He received his Bachelor of Science in Architecture degree from the Ohio State University in 1999. He worked at NBBJ and Eisenman Architects as a project assistant. In 2003, he received his Master of Architecture from the Southern Californian Institute of Architecture (SCI – Arc). In 2005 he founded Aytaç Architects in Istanbul that is engaged with building design, urban design, interiors and landscape design at all scales.
Aytaç Architects studio opperates like a laboratory with the aim to render space and building more mobile, dynamic, active than they have previously been understood as stasis and sedentary. The office strives to create powerful and clear design solutions individual to each project and site. As a full service office, Aytaç Architects is engaged with building design, urban design, interiors and landscape design at all scales. The certain interests of the office are mostly non-architectural.
The HEBIL 157 HOUSES project received the INTERNATIONAL ARCHITECTURE AWARD 2014 awarded by The Chicago Athenaeum Museum of Architecture and Design.
HEBIL 157 HOUSES will be presented at RIFF Bucharest 2015.
Hebil 157 Houses is a manifestation of this idea. Located in the North of Bodrum Peninsula, five unique villas are spread over five acres overlooking the tranquil panorama of Hebil Bay. Influenced by the site forces, size, geometry and orientation of the villas vary. All equally benefit from vast and wonderful views of the bay as they interact with the surrounding Aegean Landscape, and the Mediterranean Breeze.
The five villas are shaped and formed like the crystallized lava flows of the legendary Volcano Kos once located near the Hebil 157 site. Erupting out of the terrain dramatically, the vortexing "Bodrum White" masses merge back into the ground in tranquility, questioning the relationship between figure and ground.
Embracing the century old olive tree, the central courtyard acts as the origin of the centrifugal force in each building. The courtyard forming the heart of the building and the center of the vortex is a highly sculpted and articulated space. Its envelope hosts a fireplace, storage and interface units as well as providing cross ventilation throughout the building, thus reducing energy consumption for cooling.
Large glass surfaces bring the Mediterranean landscape inside, blurring the division between inside and outside.
The influence of the volcano is experienced both in materiality and spatial organization. The spaces are fluidly connected, rejecting compartmentalization.
No stone other than volcanic basalt has been used in the interior spaces. For the external spaces, local volcanic agglomerate, the output of in-situ excavations has been used extensively.
The project investigates the rich relationship between the dynamics and complex forces of nature, which transforms into a relaxing therapeutic environment, ornamented with ten thousand lavenders.
PHOTO GALLERY