Biography
POSITION
Senior Partner, Architect and Founder of Mackay + Partners, London, UK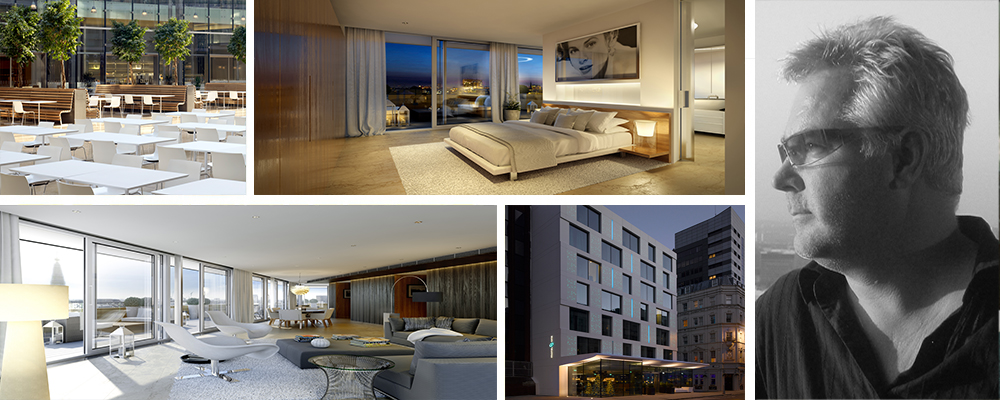 PRESENTATION
The Minories Hotel is a new 4 star 291 bedroom, hotel building has created a new contemporary focus and identity on The Minories that will act as a benchmark for future neighbouring developments.
From pre planning stage, the City of London planners gave full support to the design "bulk & mass" of the building height. The building comprises two forms a 7 storey "decorative cube" fronting the Minories and a 16 storey glass tower to the rear. The use of a solid surface material was seen as a new innovative and interactive approach to cladding typology in the city. The planners were happy to explore a new material, rather than the traditional steel and glass or a Portland stone façade that is the general norm.
The etch and use of LED lighting behind the façade allowed the building to be colour wheel changed on a computer controlled dimming system. The building brand and colour has been set to reflect the brand. This combination of rain screen and LED lighting has not been achieved in London before. The Minories building changes from dusk to midnight with a slow changing colour.
The unitised glazed rear tower element is set in colour contrast to the front white Corian cube. This contrast allows for the height change and the high level set-backs that screen the double height plant room at roof level. The façade is punctuated inset flush LED strips that break up the bulk of the tower at night.
A high standard of sustainability has been achieved to reduce the environmental impact and to deliver a supportive sustainable working building. The building utilizes a number of intelligent building systems to help achieve a BREEAM excellent energy rating. These include the design of highly thermally efficient facades with just 35% glazing, heat recovery systems, and green roofs.
AWARDS
2016: City of London, Building of the Year – Minories Hotel
2016: Corporate Live, Best in Architect Design Effectiveness – Minories Hotel
2016: Leaf Awards Best Facade Design and Engineering Finalist
2016: Build Architecture Awards UK & Recognised Leader in New Facade Technology – Minories Hotel
2016: RICS Awards, Tourism & Lesiure – Minories Hotel
2015: International Property Awards Best Hotel Architecture, UK – Minories Hotel
2015: UK Property Awards Best Hotel Architecture, London – Minories Hotel
2015: Build Architecture Awards Best Category B Fit Out – St Swithins Wine Shippers
2015: Surface Design Awards Commercial Exterior & Light and Surface Exterior – Minories Hotel
BIOGRAPHY
Ken leads Mackay + Partners and has been involved in major architectural and interior projects in the UK and across the world. He works at board-level with clients to set strategic, design and aesthetic direction for each project and agree how it is to be implemented. Many of the projects he has overseen have won international awards, including those for architectural design effectiveness, interiors, lighting and product, and space management.
Ken has the spirit and passion of a creative entrepreneur. He welcomes challenges, whether they relate to design, materials, construction methods or planning issues, and meets them with energy and enthusiasm. He makes things work in ways that might not have been previously considered.
This spirit was evident from his time at the Royal College of Art. He went on to work as design director on London's Royal Opera House redesign with celebrated architects Jeremy Dixon and Ed Jones before setting up architectural firm Harper Mackay with David Harper in 1987 and then Mackay + Partners in 2004.
Ken's entrepreneurial instinct shows through his ability to identify the potential of a development site, often bringing opportunities to developers. It also underpins the way he works, collaborating with other designers from Lord Rogers and Renzo Piano to Philippe Starck and Patricia Urquiola.
It has led him to partner with like-minded people outside architecture on ventures requiring a marrying of expertise. For example, for ten years he was a partner in Clerkenwell restaurant, Portal, which he also designed, with restaurateur Antonio Correia. Previously, he and James Mair, founder of London high-end furniture company Viaduct, set up a contract furniture side-line.
These were an adjunct to Mackay & Partners, which remains his main creative outlet.
All sessions by Arch. Ken Mackay
06 Nov 2017
10.35 - 10.45
GRAND ABCD
06 Nov 2017
14.50 - 15.30
GRAND D