Biography
POSITION
Associate partner, Outline Architecture Office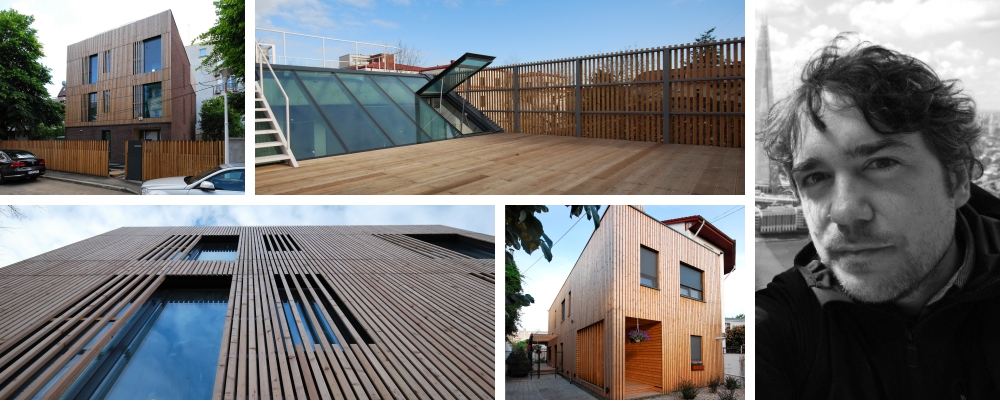 PRESENTATION
Private residence on Tolstoi Street
The residence is built on a site that is part of the protected area no.57, Bucharest.
From a functional point of view the brief and the relative small area of the plot imposed a vertical development of the structure. The general principle in arranging the interior spaces was to visually connect them and to keep an easy access between them. The living spaces are organized around a central void that extends to the top of the structure (the skylight), a void that articulates all the vertical and horizontal circulations. This principle is maintained in organizing the exterior terraces as well (sun-deck and green roof half a storey above). At the base of the void, in the "center" of the house a tree will be planted, living, growing as the house and it's inhabitants evolve.
The materials used for the exterior and interior are natural, vibrating with small differences and imperfections (hand pressed brick and untreated larch wood). The detailing and the planned gradual transitions between opaque and transparent surfaces, the repeating elements and their shade in changing daylight are all adding nuances to the simple monolithic volume of the house.
The focus of the presentation will be on the technical and aestetic developement and execution of the exterior cladding – brick and wood.
The exterior cladding was finished early 2016, but interior work is still ongoing – estimated completion late 2016. As such the presentation will focus on exterior and will contain on site execution photos.
The project was presented in an unfinished state at the 2016 Bucharest Architecture Annual.
AWARDS
Urban wooden house – project nominated in the "Anuala de arhitectura Bucuresti" – built project competition -2015
First place in architecture competition for a "New Air – traffic control tower on Cluj Napoca airport" – organized by Romatsa-2013-2014
Competition for the design of ground public space – University Parking Bucharest: honorable mention 2011
Second place in the two phase competition "Arhetipuri 2011 "
International competition green 360 lofts by the "los inkas" golf course,cerros de camacho, Lima/Peru – honorable mention-2010
BIOGRAPHY
EDUCATION
University of Architecture and Urbanism "Ion Mincu", Bucharest-2003
PROFESSIONAL EXPERIENCE
Outline Architecture Office, Bucharest ,Partner from 2007-PRESENT
Architecture Service, Bucharest – architect 2003-2007