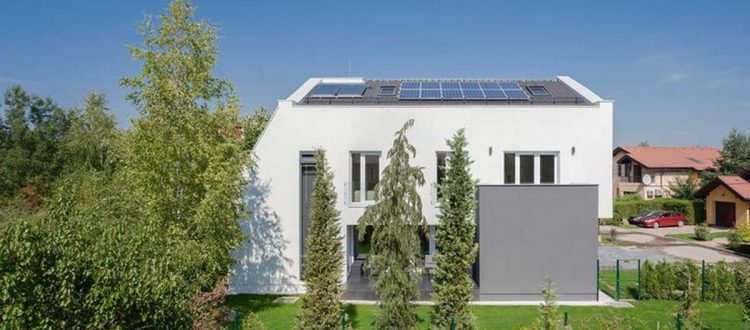 Four E-s of dwelling: the first nZEB house in Romania is presented at SHARE Forum 2017
We can't wait to welcome you to this autumn's edition of SHARE Forum 2017 where we set up the perfect atmosphere for you to enjoy our three main parallel events: RIFF Bucharest 2017, CONTRACTOR LIGHTING 2017 and the Romanian Building Awards 2017 Final and Gala. The event will be hosting more than 250 architects from 12 European countries that are part of this Forum. This is the place where, during 6 and 7 november we will meet contractors, entrepreneurs, engineers, architects, investors and real estate developers.
WIENERBERGER is one of our main partners involved with us in finding and acknowledging excellence, in providing the best environment for performance in our built space. They will be present at this edition of SHARE and they will bring goods! Be there to see their newest and most innovative construction materials and concepts put to work in the first residential construction with a close to zero energy consumption – nZEB – House E4 in Corbeanca, Ilfov County.
When we say E4, we are reminded of the four main ideas at the core of this project: Energy, Economy, Ecology, Emotion and health. Today, the first building to follow these principles, House E4, is breathing, living and loving along with the people it became home to – that is how the WIENERBERGER team likes to present it! But more than that, it speaks about the Romanians' interest for quality in construction which is growing bigger and bigger.
While the European Parliament wants that every residential development built from 2020 onward to be nZEB, WIENERBERGER develops the E4 concept and builds in 12 months the first house to have close to zero energy performances. The efforts payed off as the data collected from the first year of functioning and monitoring shows a higher than expected performance. The building is designed with the coordination of the experts who joined the WIENERBERGER team: Dr.Eng. Emilia Cerna MLADIN (Professor of Mechanical Engineering at Applied Thermodynamics, Polytechnic University in Bucharest, the President of the Romanian Association of Energy Audit for Buildings), Dr Arch. Sergiu C. Petrea (member of Tecto Arhitectura and Professor at the Design Basics at the Ion Mincu Architecture and Planning University in Bucharest), and Eng. Iulian CUTA (Product Development Manager at WIENERBERGER and the project coordinator of House E4 project)
House E4 allows for the best performances while it responds specifically to Romanian climatic conditions and structure resistance requirements; it uses innovative materials which embody tradition and nature in modern technology, having a total built surface of 325 sqm – ground floor, first floor and attic. The structure is built using Porotherm ceramic blocks – TermoExpert series, Porotherm 38 STh and Porotherm TM (insulating) adhesive – but also products from the Porotherm Complet series – lintels, ceramic floors with prefab beams and blocks). For the interior walls the Porotherm 20 N+F and 11,5 N+F were used. The exterior insulating system mixes REDArt system from ROCKWOOL – Frontrock Max E "Dual Density" mechanically fixed using ROCKWOLL REDArt adhesive, ROCKWOLL REDArt mortar and ROCKWOLL REDArt decorative silicone plaster. Therefore, house E4 is supposed to be sound proof as well as permeable to vapors. Regarding fire protection classification – A1, it prevents the spreading of fire at temperatures over 1000 degrees. The TONDACH system for roofs using big anthracite ceramic tiles completes the body of the house so that it adapts its functions to each season.
The thermal heating system is designed with the cooperation of Bavaria Eco System and it is connected to a heating pump based on recoverable energy and to photovoltaic and solar panels to optimize the energetic performance. All this is adjusted by a smart caloric management system which controls both climatization and grey water heating. To insure an interior microclimate the engineers used a floor and walls heating system, instead of the conventional one; it distributes evenly the interior temperature and can be more easily set up. The performances of all systems are monitored to quantify and personalize the results depending on each user who can therefore control them even from outside the house.
We know all these technical data can sometimes be too much, so we leave you with a short video showing the construction of the house from pouring the concrete foundation to the day of its inauguration:
Furthermore, WIENERBERGER works also on a new material, Porotherm 36,5 TermoPlus – a ceramic block incorporating stone wool insulation – which will be presented at SHARE 2017 as well. The blocks can be used to build structural or nonstructural walls; the composition of the walls is soundproof, it doesn't require additional thermal insulation, and it prevents fire spreading as well. You can learn more about this material here.
You can register by following http://bucharest.ieriff.eu/2017-register-en/ and be present at the SHARE event of this autumn where you can find out directly from WIENERBERGER representatives all the tips on new construction materials. Here at SHARE Forum 2017 we set up the perfect occasion for you to catch up with the most innovative systems for new energy efficient homes, either you are an investor, a contractor or a beneficiary. The E4 House is a perfect example and we are looking forward to seeing you here!