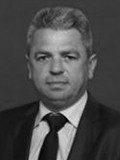 Guest Speaker in RIFF conference, Valcon Roofs
Founder of
Valcon Roofs
PRESENTATION: "Restoring the past. Building the future."
Virgil is a graduate of the Technical School of Civil Engineering and later of the University of Pitești – Department of Economics, Management Specialization.
With his motto: "Building the future. Restoring the past." , through his company – Valcon Roofs – he set new standards of quality and specializes in roofing and roof framing works, restoration of historical buildings and monuments, restoration and ornaments.
With two decades experience, Virgil Baciu strengthens his company with professionalism and quality that prevails both in terms of the standard works and in terms of the materials used.
His works include the Palace of Justice Bucharest, Headquarters B.C.R. Bucharest, St. Gheorghe cel Nou Church Bucharest, Carmelite Church Snagov, St. Spiridon Church Bucharest, O.A.R. Headquarters – House Ion Mincu, Politehnica University Bucharest, Tulcea Art Museum, Harjeu House and many other projects that have been executed with precision details and the aesthetics of roofs of these buildings speaks for itself.
More on www.valconroofs.ro