Guest Speaker at RIFF conference, LEVS Architecten
Founder/ Achitect/ Partner at
LEVS Architecten
, Netherlands
Project: "The Silvering Amsterdam"
Project Awards: 2013 MDG Architecture Award; VKG Architecture Award 2012, winner; Architect of the Year Public Award 2010, winner; Energetic Restauration Award 2013 ; National School Architecture Award 2013; Public Space Award Bussum 2010, honourable mention (Kantoor Dudok / Office Dudok).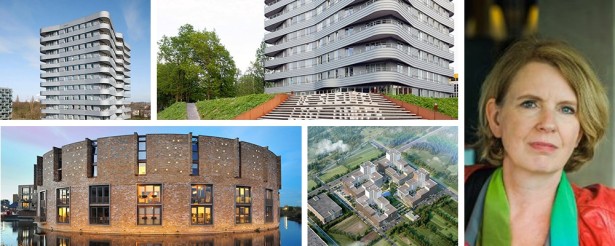 Marianne Loof is Member Of the Central Board of the BNA (Royal Institute of Dutch Architects), Chairman of the Committee of Architecture and Monuments in Amsterdam and Board Member of the National Federation of Spatial Quality in Amsterdam.
She was born in Heemstede, Netherlands (1960). In 1989 she graduated with Diploma cum laude at Faculty of Architecture from Technical University Delft and starts her career in Amsterdam like founder, director and architect at LEVS Architecten.
LEVS focuses on developing living environments with balanced architecture, combining high density with low- and mid- rise housing, both in urban and in suburban areas. Their projects are inspired by the Dutch 'pragmatic idealism'-approach, which incor- porates a high level of ambition with regard to sustainability, innovation and new techniques, albeit in a realistic, contextual and feasible design.
Their focus on sustainability and social awareness, combined with craftsmanship and technical innovation, has led to their engagement in a wide variety of projects in several parts of the world. Projects like: THE SILVERLING in Amsterdam, Netherlands; SUKHODOLSKAYA in Yekaterinburg, Russia; KALEIDOSKOOP in Nieuwkoop; Netherlands; SQUARE in Amsterdam, Netherlands; ST. IGNATIUSGYMNASIUM in Amsterdam, Netherlands and PRACTICAL TRAINING COLLEGE SANGHA in Sangha, Mali.
The Silverling / Amsterdam innovatice façade presented at RIFF Bucharest expo conference
"The Silverling" is a large residential high-rise with fifteen floors, bordering on the Eendrachtspark in Geuzeveld. An impressive silver giant with many different apartments for the long-established residents of the district. The project's structure is rational, but gains expressivity through its aluminium skin that wraps around the tower as a voluptuous shell. This second skin provides all the residents with a sun-bathed balcony where even the northeastern residences can enjoy the sun in the morning and late afternoon. This project is a definite reminder of the urban developmental history. De Zilverling is an icon of renewal that gives back to the neighbourhood its pride and won the 2013 MDG Architecture Award.
"We are definitely interested in speaking at the RIFF International Expo Conference on our perceptions of design facades. Approach is the way we craft, combining materials and technology in our innovative facades", arh. Marianne Loof.
The MDG Architecture Award honours designs using metal which is face decisive and applied innovative, aesthetic, sustainable and economically. What initially looks like a beautifully detailed and handcrafted folded zinc metal facade of the Zilverling, is in reality an innovative prefabricated wall system with curved folded stripes of Falzinc, an aluminium plate with on both sides 5 micrometer patinated surface layer of zinc that has been developed by LEVS together with the facade builder".
PHOTO GALLERY