Biography
POSITION
Founder of Ruddy Ricciotti, France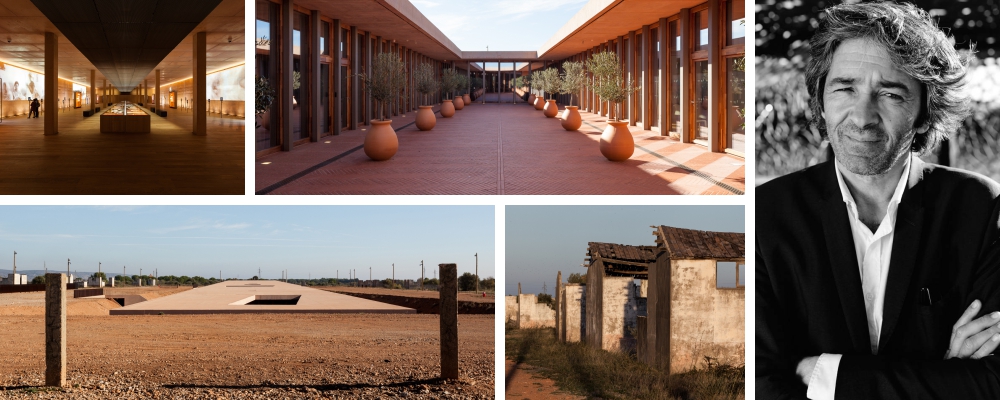 PRESENTATION
"The Riversaltes Memorial"
"The memorial is silent and ponderous. It is there to take the hits instead of others. For absentees. It must be something that embodies the responsibility of the memory. "
BIOGRAPHY
Early life
He was born in Kouba, Algeria of Italian origin on 22 August 1952 and moved to France at the age of three. He studied engineering in Switzerland and he graduated from the École Nationale Supérieure d'Architecture de Marseille in 1980.
Career
He has designed the Musée des Civilisations de l'Europe et de la Méditerranée in Marseilles, Pavillon Noir in Aix-en-Provence, Villa Navarra in Le Muy, the Jean Cocteau Museum in Menton, Les Arts Gstaad in Gstaad the International Center of Art and Culture in Liège, Belgium. He worked on an exhibition in The Louvre with Mario Bellini in 2012. In 2015, he designed the 'Man and the Sea' museum on the Antoine 1er dock in Monaco.
He abhors minimalism. He supports the "demuseumification of museums."
He runs a small publishing house, Al Dante, which publishes photography, essays on architecture, and poetry, including a French translation of John Ashbery.
He is a recipient of the Legion of Honor, the Order of Arts and Letters and the National Order of Merit.
Grand Prix National d'Architecture
Médaille d'Or de la Fondation de l'Académie d'Architecture
Chevalier de la Légion d'Honneur
Commandeur de l'ordre des Arts et des Lettres
Officier de l'Ordre National du Mérite
Membre de l'Académie des technologies
DIPLOMES
1980 Ecole d'architecture de Marseille – 1975 Ecole d'ingénieurs de Genève
INSCRIPTION A L'ORDRE DES ARCHITECTES depuis 1980 (date de création) – N° National : 23746
Architecte et ingénieur, Grand Prix National d'Architecture en 2006, Médaille d'or de l'Académie d'Architecture, Membre de l'Académie des technologies, Rudy Ricciotti est représentatif de cette génération d'architectes qui allient puissance de création et véritable culture constructive.
Pionnier et ambassadeur du béton, il sublime les bétons innovants dans des réalisations marquantes telles que le Musée des Civilisations d'Europe et de Méditerranée à Marseille, le Département des Arts de l'Islam au Musée du Louvre, le Stade Jean-Bouin à Paris, le Musée Jean Cocteau à Menton, le Pont de la République à Montpellier, le Centre International d'Art et de Culture (CIAC) à Liège en Belgique, la Philharmonie Nikolaïsaal à Potsdam en Allemagne, la Philharmonie de Gstaad en Suisse pour le festival créé par Yehudi Menuhin ou encore la Passerelle pour la Paix à Séoul.
Monsieur Ricciotti est aussi l'auteur de différents pamphlets, les derniers en date sont : « Mémorial du Camp de Rivesaltes » – Éditions Archibooks – 2016, « Le béton en garde à vue » – Éditions Lemieux Éditeur – 2015, « Rudy Ricciotti En vain » Éditions Jannink – 2014, « Conversations imaginaires « ou pas » avec Rudy Ricciotti » – Éditions un autre Reg'Art – 2014, "L'architecture est un sport de combat" Éditions Textuel – 2013,« La HQE® brille comme ses initiales sur la chevalière au doigt » Editions Le Gac Press, Collection "écrits" – 2013.
RÉALISATIONS RÉCEMMENT ACHEVÉES
LOGEMENTS, CRÈCHE, ACTIVITÉS – GARE D'AUTEUIL (16E PARIS) – septembre 2016
LYCÉE ERNEST FERROUL – LÉZIGNAN – juin 2016
PAVILLON 52 – QUAI RAMBAUD – Lyon – mai 2016
CENTRE INTERNATIONAL D'ART ET DE CULTURE (CIAC) au PARC DE LA BOVERIE À LIÈGE – mars 2016
COMPLEXE SPORTIF ET CULTUREL – PONT DU CHATEAU – mars 2016
Musée Mémorial du CampS de Rivesaltes – octobre 2015
AUDITORIUM DE REZÉ – NANTES – septembre 2015
CAMPUS DE PESSAC (BORDEAUX) – juin 2015
BOÎTE À MUSIQUES (SMAC) À METZ – septembre 2014
PONT DE LA RÉPUBLIQUE À MONTPELLIER – mars 2014
EURALILLE – LA MADELEINE – Opération secteur Romarin Nord, Lille – février 2014
ESPACE COUDERES – PAU – janvier 2014
ÎLOT T8 – Avenue de France, PARIS – décembre 2013
ESPACE AIMÉ CESAIRE DE GENNEVILLIERS – septembre 2013
Stade Jean Bouin, PARIS – août 2013
CENTRE DES ARTS ET DE LA CULTURE, DOUCHY-LES-MINES – 2013
MUSEE DES CIVILISATIONS D'EUROPE ET DE MÉDITERRANÉE (MUCEM), MARSEILLE – juin 2013
RECTORAT DE DIJON – 2013
Siège d'ITER France (International Thermonuclear Experimental Reactor), CADARACHE – 2012
MUSEE DU LOUVRE – DEPARTEMENT DES ARTS DE L'ISLAM, PARIS – 2012
COMPLEXE SPORTIF DE LILLE ET ECOLE ROSETTE DE MEY – 2012
MUSEE JEAN COCTEAU Collection Severin Wunderman, MENTON – 2011
MEDIATHEQUE ET centre d'art contemporain DE COLOMIERS – 2011
LOGEMENTS « LA GLACIÈRE », MERIGNAC – 2011
BIBLIOTHÈQUE REGIONALE SIMONE DE BEAUVOIR DE ROUEN – 2010
MAISON DE L'EMPLOI, SAINT-ETIENNE – 2010
ÉCOLE Internationale ITER (International Thermonuclear Experimental Reactor), MANOSQUE – 2010
VILLA 356, Bandol – 2009
PONT DU DIABLE, GIGNAC – 2008
LOGEMENTS ET  MULTIPLEX « Les Enfants du Paradis », CHARTRES – 2008
CENTRE D'ESSAIS ET D'EXPERTISES – MARINE NATIONALE à TOULON – 2007
CENTRE CHORÉGRAPHIQUE NATIONAL (CCN) D'AIX-EN-PROVENCE – 2006
UNIVERSITE PARIS VII – REUTILISATION DES GRANDS MOULINS – 2006
AWARDS
AWARDS OF THE OFFICE
Finalist of Mies van der Rohe Award 2017
Colored Concrete Works Award 2017 / MUCEM
Prix du Musée 2015 du Conseil de l'Europe / MUCEM
Prix d'excellence de la construction en béton décerné par l'ACI (American Concrete Institute) en 2015:
Overall "Excellence" Award Winner: Low Rise Buildings / MUCEM
First Place – Category: Low Rise Buildings / MUCEM
Grand prix spécial du jury de l'Equerre d'Argent / MUSÉE MÉMORIAL DU CAMP DE RIVESALTES
Prix d'excellence de la construction en béton décerné par l'ACI (American Concrete Institute) en 2015 :
1er prix dans la catégorie "bétons architectoniques" / Stade Jean Bouin
Clé d'or de l'entreprise générale 2013 pour DV Construction – lauréat regional / LA GLACIÈRE – MÉRIGNAC
Distinction, reconnaissance Bâtiment Durable Méditerranéen en 2012 – niveau bronze / ÉCOLE INTERNATIONALE ITER – MANOSQUE
Clé d'or de l'entreprise générale 2013 pour Eiffage Construction – lauréat regional / RECTORAT DE L'ACADÉMIE DE DIJON
AWARDS OF THE SPEAKER
Grand Prix National d'Architecture
Médaille d'Or de la Fondation de l'Académie d'Architecture
Chevalier de la Légion d'Honneur
Commandeur de l'ordre des Arts et des Lettres
Officier de l'Ordre National du Mérite
Membre de l'Académie des technologies